The term Afro-Latino is not widely used and I first heard it during an interview with the lovely Tatyana Ali on an episode of The Mo'Nique Show.  She openly discussed her ethnicity and I was very intrigued – I must admit I do not fully understand the differences between race, ethnicity, nationality, culture, etc.  I mean I've been taught, I've looked it up, but I can openly admit that I'm still not sure so if I use any of those terms incorrectly in this post or others, blame the education system in which I was enrolled! According to Wikipedia, Afro-Latino American is defined as a person of Latin American person of Black African ancestry.  Anywhoooo, what inspired this post is that I have loved most of these ladies' hair for years, literally.  And being from NJ and frequenting Dominican shops while in undergrad, I know for a fact that many Afro-Latinos face the same issues with their hair as we do – managing curls, coils and kinks, fighting frizz and yes even nappiness, relaxing and transitioning out of their relaxer, and combating dryness.  Sometimes I think we (Black women) often think we own the trademark on those challenges and I know I'm guilty of thinking someone's beautiful hair is due simply to their "good gene mixes for growth" (yes, I'm still a bit peeved about Melanie Fiona's comments) but that is not always the case at all, for most women of color, having beautiful hair requires care and healthy practices.  So let's get into it!
I'm assuming we all remember her lush, long locs from her days as Ashley on The Fresh Prince of Bel-Air. These days, she still rocks a lot of length although shorter than her youth with bodifying layers, which I simply love! And it is good to see her acting steadily and not going the route of so many child stars – sex tapes, drugs, or a combination! The most recent film I saw her in was Dysfunctional Friends (available on Netflix) and seriously I love that movie!  She also stars in the TV One sitcom Love That Girl and I love to support Black TV shows! Tatyana is of Panamanian descent.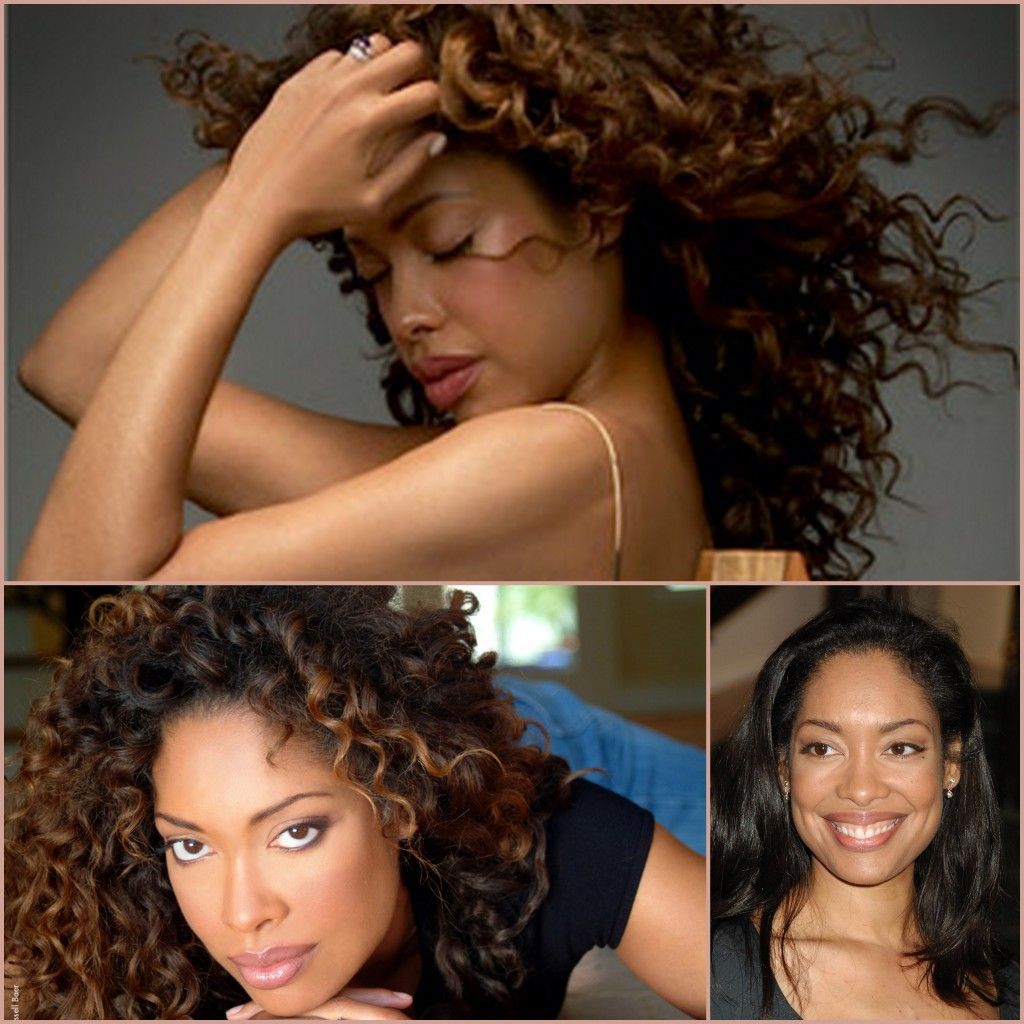 Gina Torres
Such a familiar face but I really only know her from the Chris Rock film I Think I Love My Wife. I admired her hair in the film and did assume she wasn't African American, and it turns out I was right, she's Cuban American. A quick Google search gave me some gorgeous photos of her and her hair. Love!!!

Reagan Gomez-Preston
Who didn't love Zaria's hair on the 1990s sitcom The Parenthood?! It was always laid and she always rocked a variety of styles and gorgeous color.  Reagan has been in a variety of films and recurring TV spots since then and she seriously stole the show in Dysfunctional Friends. No I'm not being paid to promote that film…now that I think about it, part of the reason I may have loved it so much is all the beautiful hair, lol!  Reagan is very active on Twitter, maybe we can get her to tweet details about her hair if we send her this link?! Go for it, and don't forget to add the hashtag #BHMebony! Reagan's mother is Puerto Rican and her father is African American.
Melissa De Sousa
She's one of those actresses who has been around forever, but usually in small or supporting roles. You know the kind, where you see her all the time and scratch your head to think "Where do I know her from?" I happened to see a live taping of the VERY short-lived WB sitcom The Second Time Around so I know exactly who she is and definitely wondered one – if her accent was authentic and two – if her hair was real! Lol! From the looks of these photos, her hair is definitely long and beautiful! Melissa is also of Panamanian descent.


Lauren Velez
Think back…way back….back into time! Remember Nina from NY Undercover? I know most of us probably focused on the sexiness of the men, but Lauren was all up in there too! She's such a good actress. And even though by today's standards her hair on the show would probably be considered short, as a kid, I really admired it…especially its versatility to be both curly and straight. Lauren has had steady work since her days as Eddie's girlfriend, but I'll still always think of her as that feisty policewoman!

Judy Reyes
Best known for her role as nurse Carla Espinosa on the sitcom Scrubs, surprisingly which I only watched after it went off the air, Judy has some gorgeous hair! My favorite look was the Farrah Fawcett flips, although I do like her natural curls also. It looks as if she keeps it at full APL purposely, which looks long and beautiful to me!